Greetings from goodwood
(Allgemeines)
Uli, it looks like you too had an excellent time at this years Revival.

By the sounds of it, there's a decent chance next year will be even better for you. After all, there's nothing quite like a brave roadtrip!
And on that note - if you're touring the UK, you really need to drive through the Peak District as well. In my humble opinion, you'll find some of the UK's best and most scenic roads here. Oh, and I happen to live in the Peak District.
So by all means Uli, drop by! I'll take you out and show you some fabulous roads.
Of course, alternatively we can just meet up at the Revival for a few sun-chilled Guinness...
O==00==O
Mfg. Anders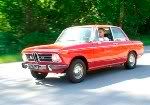 '72 BMW 2002 - agave
'73 BMW 2002 - verona
'74 BMW 3,0S - polaris
'81 BMW M535i - reseda
---
gesamter Thread: